My name is Brandon Satrom.
This is me… pointing at something.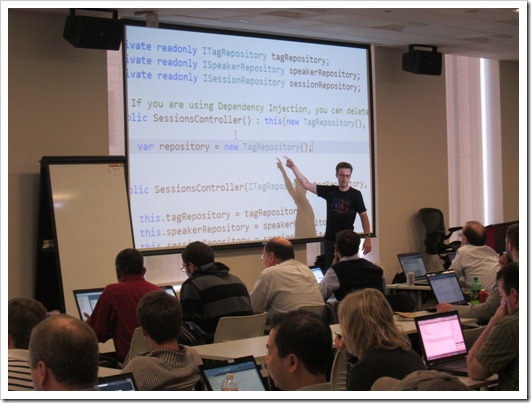 I like to talk. It's usually good to have someone around to stop me. My wife is good at that.
I live in Austin, TX and work on the Kendo UI Team as Program Manager. For me, that means four things:
Write Code
Hang out with people smarter than me
Write about code
Give presentations about code
It's a pretty sweet job. And yes, that is my order of preference.
Oh, and when I say "write code," I don't mean "write demos for presentations." I mean actual code. I build actual sites and solutions. How else could I do #3 and #4?
Most of the code I'm writing these days is open source. I'm a committer on the MvcContrib project,  created a jQuery Plugin for adding IE Site Pinning capabilities to websites as well as an unobtrusive JavaScript plugin for KnockoutJS called Knockout.Unobtrusive. I also created dalekIpsum.com and and working on a few other projects you can check out on my GutHub page.
I do some speaking, from time to time, and you can read all about that here.
I also do a lot of technical writing, you can read all about that here.
I also write fiction, but not so much lately. Kids, busy job and all that. Wouldn't trade it for anything. Perhaps someday, Dan Ducat, I will finish the novel in my desk drawer. For now, you can see how much I'm not writing by going to http://www.brandonsatrom.com.
In addition to this blog, I also spend more time than I should on Twitter as @BrandonSatrom. If you're there, let's follow one another and further the decline of western civilization, one tweet at a time.
I'm on LinkedIn too. Seems like we're all still using that, to some degree.
Thanks for stopping by.